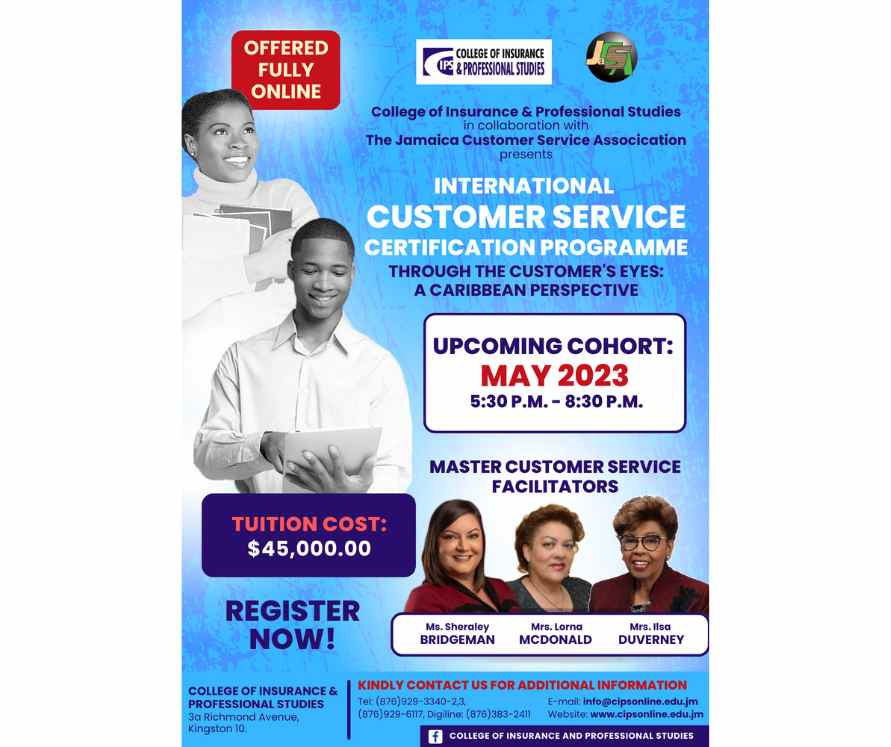 INTERNATIONAL CUSTOMER SERVICE CERTIFICATION PROGRAMME – CIPS in collaboration with JaCSA
May 16 @ 5:30 pm

-

June 1 @ 8:30 pm

CDT

|

$45,000
AIM: To present a cultural perspective with indigenous illustrations to heighten our collective consciousness in order to develop world-class service champions.

OBJECTIVES:
1). Identify:
a) Some influencers of Caribbean culture
b) Some issues which impact Customer Service

2). Cite techniques which will add value to the Customer experience

3) Examine Customer Service Standards with a view to foster empathetic World Class Customer Relationship

4) Identify strategies to transition from a mindset of servitude to Service

5) Identify some ways to engage customers in order to delivery positive memorable experiences …….through the customer's eyes

6) Explore ways to foster positive attitudes which increase profitability and productivity

Programme Structure:

The Programme has two aspects: International self-administered modules & The Caribbean perspective Instructor-led (Online). The International aspect has six (6) complete self-administered modules in digital training format with end of module tests. The Caribbean aspect is a Four (4) module online instructor-led programme with real-time interaction facilitated by expert trainers. 4 sessions (3 hours per session).