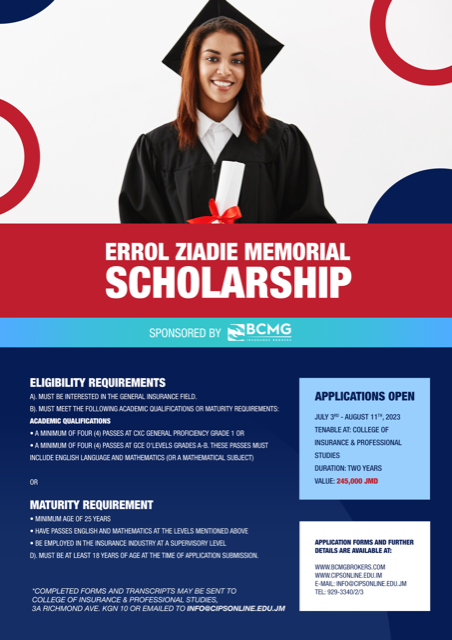 A. GENERAL INFORMATION
– Specialist Area of Study: Insurance
– Age Requirement: Minimum 18 years of age
– Gender: Male/Female
– Amount awarded: full tuition for the Certified Insurance Technician Course
(Formerly Jamaica Insurance Diploma)
– Tenable: College of Insurance & Professional Studies
– Name of Organization offering scholarship: BCMG Insurance Brokers
(i) Each candidate is to submit a completed application form with all supporting
documents to, College of Insurance & Professional Studies, 3a Richmond
Avenue, Kingston 10. NO LATER THAN August 12, 2022.
(ii) Incomplete applications will not be considered
B. ELIGIBILITY/QUALIFICATIONS:
Interested in the General Insurance field
Academic Qualifications
– A minimum of four (4) passes at CXC General Proficiency grade 1 OR
– A minimum of four (4) passes at GCE O' levels grades A-B
These passes must include English Language and Mathematics (or a mathematical
subject)
OR
Maturity Requirement
– Minimum age of 25 years
– Have passes English and Mathematics at the levels mentioned above – Be
employed in the insurance industry at a supervisory level2
C. SUPPORTING DOCUMENTS
(i) Two letters of reference
a) Professional – from a supervisor or colleague who can speak to your
professional responsibilities and accomplishments.
b) Character Reference
(ii) Two recent passport size photographs
(iii) Certified copies of Official transcript of grades or similar proof of academic
standing
Contact Information:
Telephone Number: 929-3340/2/3
Organization Website: www.cipsonline.edu.jm
Organization e-mail: info@cipsonline.edu.jm
Contact Name: Annette Robotham
Contact e-mail: arobotham@cipsonline.edu.jm